Farmer, Landowner & Real Estate Investors
Are you planning to transform your land into a regenerative paradise?
Good design increases the quality of life and the value of your assets. Edhen offers holistic development and design services, thanks to her strategic partnerships with world-class experts. We facilitate the co-development of regenerative farms, self-sufficient carbon positive homes and eco-villages.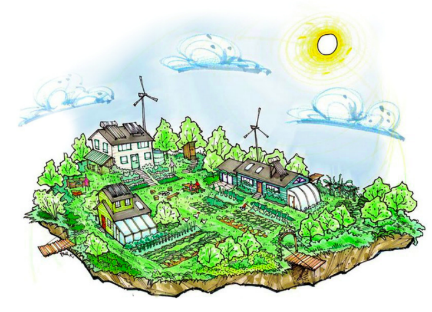 The value is higher for the most productive and resource-secure farms and real estates
In times of crisis, smart people are looking for opportunities to invest in food production and benefit from higher commodity prices. However, the smartest people know that there's a lot more to agriculture than just growing food. Hence, they invest in a holistic and community-supported development strategy. Knowing that economic resiliency is based on trusted partnerships, improved soils and watersheds.

Similarly, conscious real estate investors and agents are getting aware of the development towards climate-resiliency and self-sufficiency. As the demand for off-grid eco-friendly homes and self-sufficient permaculture villas with beautiful organic gardens is increasing. Hence, the return on investments is higher in green attractive neighborhoods, compared to areas without vegetation. Another feature receiving increased interest is security. Higher levels of security can be achieved, through developing community based neighborhoods (i.e. eco-villages).   
WE FACILITATE YOUR INDIVIDUAL DESIGN AND EVALUATION PROCESS
Edhen supports farmer, landowner and real estate investors with the evaluation and design of individual land development projects. To support regenerative farm or homestead (re) design, as well as the establishment of regenerative land-based enterprises. Our holistic approach considers food, water and energy as well as social and economic resiliency. And adds value to existing land and infrastructure assets. To build trusted partnerships and climate responsive systems that fit in the natural landscape.
Edhen closely engages with clients at all phases of the development & design process, in order to reflect the individual needs and resources.
Starting with a holistic sustainability evaluation of the social, economic and agroecological context.
Followed by the discussion of the identified challenges and opportunities, as well as the go or no-go decision.
Preparation of a holistic management strategy and master plan. Including energy flows and analysis of the water and energy system. A master plan can be very comprehensive or compact, depending on your individual needs.
Holistic coordination of the land development project. Thanks to our cooperative structure, we can assign a wide range of experts for the specific design tasks.
Design or re-modelling of organic farms or off-grid homes, with self-sufficient water and energy systems. With attractive and productive home-gardens and/ or agroforests.
Optional: Creation of learning opportunities, through workshops and hands-on participation in collaboration with students, experts and local community.