Collaboration Services
"Yesterday I was clever, so I wanted to change the world. Today I am wise, so I am changing myself." – Rumi
Evolving collaboration to manage complex systems & successful projects
Mindful leadership and successful collaboration are key for high-performing teams and successful projects. The current crisis, comes with additional challenges demanding higher levels of trusted partnerships, emotional balance and organizational resilience.
Therefore, we put special emphasis on evolving the collaboration process. Both, within our own organization as well as by coaching clients and development partners. To facilitate a people-centered, strategic and ecosystemic renewal.

Our consulting and coaching services – online and in real life
Our role as facilitator within intelligent collaborative ecosystems: Edhen facilitates the collaboration and communication process in a neutral and structured way. Our main role is to facilitate the groups' collaboration process. It's not us but the collective intelligence of your team that brings out the most adapted solution, to reach its collective objectives. A bottom-up organizational design, can be a fundamental first step to start the co-development process. In order to advance the feeling of inclusiveness among all levels of your organization.
Our consulting and coaching services are available both in real life and through online meetings. Beside her services for teams, Edhen offers individual coaching for holistic leaders. 
We offer tailor-made facilitation and coaching services. The development process generally includes the facilitation and co-development of:
Shared goals, trust and accountability
Efficient meetings & workshops
Transparent communication of views, proposals and objections
Mindful leadership and decentralized decision-making
Flexible and agile organizational structure
Joint decision-making, encouraging self-discipline and accountability
Regular feedback and assessments, identification of sources of conflict
Fun yet serious work environments that foster wellbeing, motivation & creativity
INSIGHTS

Challenges in evolving collaboration: Towards creating a positive human-centered environment for successful projects
According to our experiences, the human factor is more challenging than finding technical solutions. Successful collaboration is particularly challenging in interdisciplinary projects and in today's increasingly diversified organizations operating in fast changing environments.
Very often, it's the collaboration process, which determines successful projects.
With regard how projects and teams are organized, traditional top-down approaches may work for specific contexts. In other cases, old ways of organizing can lead to lack of motivation and innovation or even to conflicts.
Today, various methods exist to evolve organization design and positive leadership. Different ways of operating that motivate and enable people to contribute more efficiently to the organization's mission.
Positive leadership in uncertain times
Many of us may have experienced that it's not easy to be a leader. Leading high-performance teams, generally requires a high level of interpersonal skills, calm authority and compassionate integrity. When it comes to leading interdisciplinary teams and solving complex topics, additional skills such as transdisciplinary oversight and strategic clarity are needed.
The current crisis necessitates to also invest in cultivating emotional balance and organizational resilience. To empower leaders and the team to rise above the disruption and to strengthen trusted working relationships. Whit more trust, team members will support each other to stay healthy, balanced and motivated (to pursue shared goals).
Our methods and tools
Our collaboration services are commonly based on Sociocracy 3.0, a toolkit and framework with an open software structure. It offers methods and documentary resources to organizations that want to advance their collaboration skills. Depending on the organization's needs, 70 patterns are available to respond to various challenges and opportunities. We apply them in the co-development of projects and proposals, in conducting effective meetings as well as in the coordination of teams and tasks (or work-packages in the case of interdisciplinary research projects).
According to the Sociocracy collaboration model, interdependent and semi-autonomous nested circles function as specialized working groups. Circles are organized like the fractal patterns and ecosystems found in nature. 
For advancing holistic leadership and collaboration in relation to regenerative land-use, we apply methods from the Holistic Management Framework. To coach stakeholders who are interested to manage land and people holistically. Holistic Management is a systems‑thinking approach, designed to manage complex systems. By supporting the holistic decision-making process as well as the planning and monitoring procedures.
Organization's Winning Culture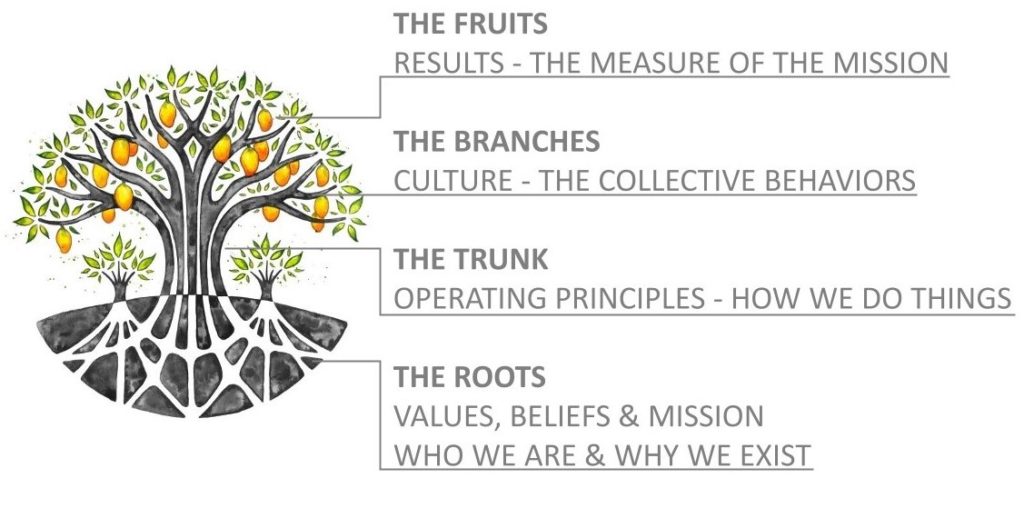 "When a decision is made to cope with the symptoms of a problem, it is generally assumed that the corrective measures will solve the problem itself. They seldom do." Masanobu Fukuoka
"Effective teams emerge out of shared purpose, urgency, mutuality and care. Focus on alignment, execution, and optimizing results that are harmonious with natural living systems and desired human behaviors." Englund (2009)
Edhen's sociocratic structure is designed to deal with complex living systems, by creating a space for people to collaborate respectfully and successfully.